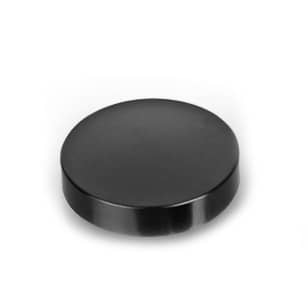 Product Information
Phenolic is a type of thermoset plastic material known for its physical and molding properties. Because phenolic caps have strength and durability with heat-resistant and insulating properties they are widely used in laboratory environments. Excellent resistance to chemical corrosion and low moisture absorption. Phenolic closures are autoclaveable.
Black phenolic caps are an ideal cap for chemicals, essential oils and any other aggressive products. One of the main benefits of Phenolic Caps is their durability and long life. They are also the most temperature tolerant of plastic caps. Phenolic caps are also available with a polycone liner for use with glass containers.
We welcome the opportunity to discuss how our phenolic caps can enhance and protect your product. Please contact a C.L. Smith representative for more information on black phenolic caps.
| | |
| --- | --- |
| Materials | Phenolic |
| Neck Finishes | 13 mm – 89 mm |
| Colors | Black, Green and White |
| Outside Textures | Ribbed, Smooth |
| Liners | Cone Lined, Lined |
Please contact one of our HAZPlus® Packaging Specialist Experts for all of your special packaging needs
(800) 264-1202 | office phone number
Email Us | through our online form