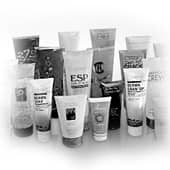 Squeeze Tubes
C. L. Smith offers tubes in various sizes, capacities, materials, colors and finishes to hold nearly any product for retail and brand distinction. Complete the package with bold graphics printed with off-set, silk screen, or gold stamping on attractive surfaces such as pearlescent.
Squeeze tube sizes range from .05" – 2.375" diameter with a volume/capacity of 0.125 – 13.5 fl oz. Squeeze tubes suppliers manufacture tubes in HDPE, LDPE, PP, Co-Extruded, Multi-layer and also Aluminum. Besides an array of colors such as Natural, White, or Custom Colors, there are options for many different head finishes such as Plain stand-up, screw on or Snap on, Snip Tip, Lube Nozzle, Twist-off, and custom designs.
Additionally, squeeze tubes accommodate an array of caps such as Ribbed or Smooth, Spout & Center Dispenser, Child Resistant, Caulk Tip, Valve tip, plus many more.
MOQ's start at 5m – 20m depending on size and specifications.
| | |
| --- | --- |
| Sizes | 0.5″ – 2.375″ diameter |
| Volume/Capacity | 0.125 – 13.5 fl oz |
| Material | HPDE, LDPE, PP, Co-Extruded, Multi-Layers |
| Colors: | Natural, White, Custom Colors Available |
Please contact one of our Packaging Specialist experts for help with all of your Performance, Regulatory, or any other needs related to custom or stock packaging!
(800) 264-1202 | office phone number
Email Us | through our online form