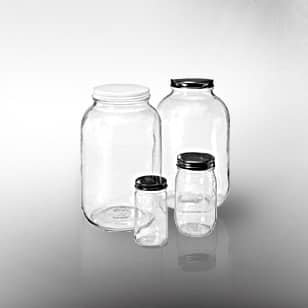 Economy / Widemouth
Wide-mouth glass bottles and wide mouth glass jars are perfect for almost any application demanding an economical, yet strong performer. The large openings of these containers make product access a breeze. The appeal of these glass containers is that your beautiful products are visible for all to see. They can be used for any type of product from personal care and cosmetics to food containment. Think about seeing your wonderful sauces, jellies, pickles, olives, fruits– the list is limitless! Walk through any grocery store, craft store, drug store, the shelves are full of beautifully displayed products in glass containers!
We offer these wide mouth glass jars and wide mouth glass bottles in Flint (clear) or Amber colors depending on your product. The jars range in size from 60cc to 128cc and have neck finishes ranging from 33mm to 89mm, CT (Continuous Thread) and Lug!
Sizes
60cc – 128cc
Neck Finish
33mm – 89mm, CT and Lug
Colors
Amber, Flint (Clear)
Custom Colors Available
Please contact one of our Packaging Specialist experts for help with all of your Performance, Regulatory, or any other needs related to custom or stock packaging!
(800) 264-1202 | office phone number
Email Us | through our online form