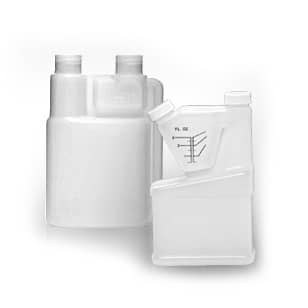 Product Information
Dosing and Dispensing Bottles are designed with the end user in mind. It is no longer necessary to use a measuring cup or spoon, these measure and pour dispenser bottles require little effort to get just the right amount of liquid into the filling dispenser chamber.
Dispenser bottles are made with HDPE resin and come in a variety of sizes and neck finishes as well as multi-size chambers (click on Caps / Closures "link" under the Enhancements section below). These dispenser bottles are offered in Natural color making it easy to detect the amount of product remaining in the dispenser bottle. These containers can be enhanced through the use of decoration, labels, as well as surface treatments while still offering an economical packaging solution.
The majority of resins used for the manufacturing of the cylinder bottle meet FDA requirements for food contact.
Dosing bottles are used for a wide variety of products and uses, including:
Lawn Care Products (pesticides and herbicides)
Chemical
Industrial products (cleaning, lubricants, concentrated cleaners)
| | |
| --- | --- |
| Sizes | 8 oz – 1 gallon |
| Materials | HDPE (The majority of resins used meet the requirements of the FDA for food contact) |
| Neck Finishes | 24 mm – 38 mm |
| Colors | Natural |
Enhancements
Packaging Compliance
Hard-To-Hold
Decoration & Labels
Surface Treatments
Carton Configurations
View-stripe & Graduations
Caps, Closures, Pumps, & Sprays
Need Hazardous Materials Packaging?
California Rigid Plastic Packaging FAQs
Child Resistant Packaging Protocols
Barrier Enhancements
Resin Comparison Chart
Heavy Duty Bottles
Alternative Resins
Please contact one of our Packaging Specialist experts for help with all of your Performance, Regulatory, or any other needs related to custom or stock packaging!
(800) 264-1202 | office phone number
Email Us | through our online form