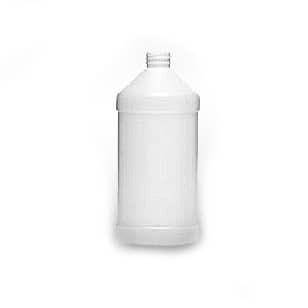 Product Information
Modern Round bottles are cylindrical shaped bottles with an angled shoulder that are commonly manufactured in HDPE, LDPE, and PET resins. They can also be manufactured in lighter gram weights or with a combination of HDPE and PCR resins to meet one of the compliance options for the California Rigid Plastic Packaging Container (RPPC) Program.
These bottles are available in a wide variety of capacities, but are most popular in the 16oz and 32oz sizes. They feature multiple neck finish options and carton pack configurations. Standard colors include Natural, White, Blue/White, Clear, and Amber, but Custom Colors are also available. Modern Rounds will traditionally have an indented label panel that helps protect labels.
The majority of resins used for manufacturing the Modern Round bottle meet FDA requirements for food contact. Modern Rounds can be enhanced through the use of decoration, labels, and surface treatments. Various closure options for Modern Round bottles include CT, CRC, Dispensing, Pumps, Sprayers, Tamper Evident styles (please click on link to Caps/Closures under Enhancements below).
Modern Rounds are ideal for a wide variety of uses and industries including, but not limited to:
Agricultural
Automotive
Biotechnology
Construction
Environmental
Food & Flavorings
Healthcare
Home & Garden
Household Chemicals
Industrial Chemicals
Janitorial/Sanitation
Personal Care
Petroleum & Oil
Pharmaceutical
| | |
| --- | --- |
| Sizes | 1 oz – 1 liter |
| Materials | HDPE, LDPE, PET, Nylene (The majority of resins used meet the requirements of the FDA for food contact) |
| Neck Finishes | 20 mm – 38 mm |
| Colors | Natural, White, Clear, Amber, Blue/White (Custom Colors Available) |
Enhancements
Packaging Compliance
Hard-To-Hold
Decoration & Labels
Surface Treatments
Carton Configurations
View-stripe & Graduations
Caps, Closures, Pumps, & Sprays
Need Hazardous Materials Packaging?
California Rigid Plastic Packaging FAQs
Child Resistant Packaging Protocols
Barrier Enhancements
Resin Comparison Chart
Heavy Duty Bottles
Alternative Resins
Please contact one of our Packaging Specialist experts for help with all of your Performance, Regulatory, or any other needs related to custom or stock packaging!
(800) 264-1202 | office phone number
Email Us | through our online form