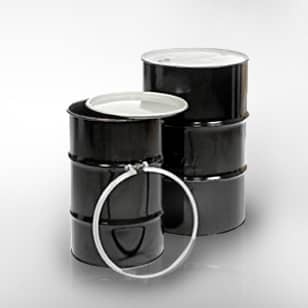 Steel Drum
Steel drums are ideal for a wide variety of applications and uses, including:
Paint and Coatings
Industrial Chemicals
Flavors and Fragrances
Hazardous Materials
C. L. Smith has steel drums in stock and for sale available in a range of open top and closed top sizes. Sizes range from 4 gallons to 85 gallons. 55 gallon steel drums are the most common size. 30 gallon steel drums are also popular.
Our open top steel drums will often be referred to as "openhead drums" and can be used to store and transport various solid and liquid products. Openhead drums come with a liquid tight cover with a clamping lock or ring and bolt to prevent product leakage. Covers come with many different sizes and styles of flange openings for filling, mixing or extraction.
Like openhead drums, closed top (closedhead) drums come with various sizes and styles of flange openings. The main advantage a closedhead steel drum has over an openhead is that it can store and transport the more dangerous hazardous materials.
Openhead and closedhead steel drums are both available as UN rated for hazardous materials and hazardous waste as well as non UN. Openhead drums can ship packaging group II and III materials while closedheads are rated to ship packaging group I, II and III.
The interior of a steel drum can come in a variety of ways. Drums can come with an unlined interior, they can have a rust inhibitor, or can have an epoxy or epoxy phenolic lining. With the help of our lining and drum suppliers, C.L. Smith can help find the lining that will work with your product the best.
Most openhead and closedhead steel drums come standard in black white and blue. Although minimum order quantities are required, custom colors and printing are available from steel drum manufacturers for all styles of steel drums.
Sizes
15 gallon – 85 gallon salvage
Styles
Tighthead, Openhead
Colors:
Black, White, Black/White, Black/Grey
Other Colors Available
Type
New, Reconditioned
UN Rated
Available
Please contact one of our Packaging Specialist experts for help with all of your Performance, Regulatory, or any other needs related to custom or stock packaging!
(800) 264-1202 | office phone number
Email Us | through our online form